LISTEQ SecondPC  
LISTEQ Cloud Desktop software specifically for small Private Clouds (on premises, LAN), e.g. SOHO.
Turn a USB monitor/Zero Client into a PC!
Create an extra PC on an existing PC, only an extra USB monitor/Zero Client is required.
Each PC has its own OS (

BoXedVDI

).
Usage of low-cost monitors/Zero Clients (DisplayLink or SMSC based).
Each PC comes additionally with ultimate BYOD, providing access from any platform/device (Windows, OS X, Android, iOS, Ubuntu, HTML5).
Simple download, Plug & Play.
Customer Case:
ThinclientSpecialist delivers SecondPC bundle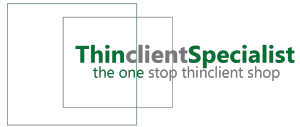 A SecondPC bundle (including SecondPC software, Zero Client and keyboard/mouse) is now available to end-users for € 99,- at ThinclientSpecialist.